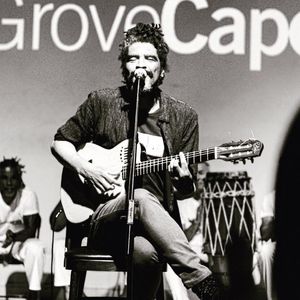 Brazilian singer-songwriter Aleh Ferreira, best known as the frontman of legendary Brazilian funk band Banda Black Rio. His warm, distinctive voice, samba-funk fusion grooves and lyrics that celebrate Afro-Brazilian heritage have earned him a career spanning three decades across the globe. Having also shared the stage with the likes of Ed Motta, Seu Jorge and Daniela Mercury and earning an assortment of national and international awards for his work as a performer but also as a composer for the screen and producer, Aleh is one of the most prominent contemporary musical figures of "música popular brasileira" in the diaspora.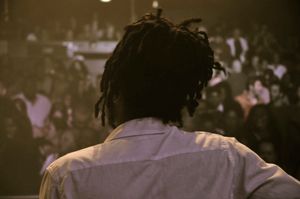 Aleh is a Brazilian singer and composer from Rio de Janeiro who debuted as an artist in the mid-90s playing in the Bantus as the opening band at The Wailers' show. Quickly clawing his way to the top, Aleh started composing songs for various Brazilian TV shows and contributed reviving the Banda Black Rio with Wilian Magalhaes, a Brazilian funky musical group originally formed in 1976 by Wilian's father. He finally gained attention co-producing Cassiano's album, considered the precursor of soul Brazilian music together with Tim Maia. After playing in several shows, Aleh started his career as a solo artist launching his first big hit 'Sou do Bem' presented in Putumayo's Brazilian Grooves compilation and featuring in more than 50 countries. His popularity grew with the release of his next album MPB SOUL SAMBA GROOVE (Nikita) and the single 'Dona da Banca', better known as the soundtrack of 'A Diarista', the famous Brazilian TV show. At its launch the CD was well received by other artists, the public and critics alike. After being recorded by Daniela Mercury in her CD/DVD 'Eletrodomestico', the song 'Dona da Banca' featured in many international compilations like Brazil Lounge 2 (Portugal), the English playlist Nu Brazil 2 and Nova Ordem Musical in Brazil. In 2003, whilst still on tour in Brazil, Aleh became known for taking part in a Brazilian musical movement originated in Lapa – a neighbourhood in Rio - along with many other great musicians. It was at this time that Aleh joined the group Garrafieira, contributing to their first CD which get produced in 2004 with the Record Label 'Biscoito Fino' and won PRÊMIO TIM 2005 for best MBP band. In 2005, over 5000 people showed up at Ipanema beach to watch Aleh playing at VIVO AO VIVO, a spectacular music festival celebrating Rio de Janeiro's talents and music heritage; on the stage with Aleh performed artists like Sandra De Sà, Banda Black Rio, Claudio Zoli and trumpeter Marcio Montarroios. Soon after, Ana Carolina invited him to play at 'Encontros TIM', an entertainment show hosted and broadcasted live in the beautiful Castro Alves Theatre in Salvador where he was warmly welcomed by over 7000 people. This artistic collaboration inspired Aleh to write various songs for her which eventually were recorded in three consecutive albums: "Ana & Jorge", "2 Quartos" and "2 Quartos ao Vivo". In the same month, Seu Jorge invited Aleh to perform at another successful show in São Paulo, acclaimed by over 8000 fans singing his hit 'Sou do Bem' and 'Dona da Banca'. 
In the last decades, Aleh contributed songs to DJ Mam's show 'Sotaque Carregado', a fusion of Brazilian groove with electronic music which got recognised with the last prize 'Conexao Vivo'. In these years, he also worked with the composer Marcelo Yuka, icon of the famous band 'O Rappa'. Aleh's most recent songs, as 'Cyber Cabaret', featured in the soundtrack of Marcelo Lafitte's movie 'Elvis & Madonna' together with those of best-selling performing artist Elza Soarez and Gilberto Gil. Movie and songs competed in New York at the Tribeca Independent Film Festival 2010 founded by Robert De Niro, and in Paris at the Festival du Cinéma Brésilien. Aleh also interpreted Marcelo Yuca's 'Linda Maquina', the original soundtrack of 'Utopia e Barbarie' directed by Silvio Tendler. 
In 2010, Aleh released his second album "Aleh + Samba" featuring Wilson das Neves , Pretinho da Serrinha, Carlinhos 7 Cordas, Esguleba and Zeca Da Cuíca – all big names of the samba tradition. 
During the last World Cup, Aleh performed with the Banda black Rio at the FIFA Fun Fest in Durban and Cape Town. Most recently, he embarked upon his first European tour to publicize his latest album including shows at the Brazil Music Week in Oxford's University, the Ronnie Scott's Jazz Club, the Brazil House exhibition at the Somerset House in preparation for the Olimpic Games 2012. Very popular for his songs in France, Aleh also performed at Stúdio du L'Ermitage, Belleviloise, at the Favela Chic Club and at Cité Universitaire in Paris. 
Winner of two London Press Awards 2018 how the best Brazilian musician and the best Brazilian event (S.0.S Samba de Raiz/Samba de raiz UK), Aleh make grow your audience in concerts at Hootannany in Brixton, Brasilica Festival in Liverpool, Release of your Single "Tempo de mudar" sold out at Jazz Café in Camdem town, London Jazz Festival 2023, Medicine Festival and other activities. Currently yours projects in course are The albums 'Baile de Máscaras' and  'Josefino' including singles and epS during the new season 2023/2024.